Why hello there! Just an update to show you a couple of pieces I'll be taking to the show on Sunday.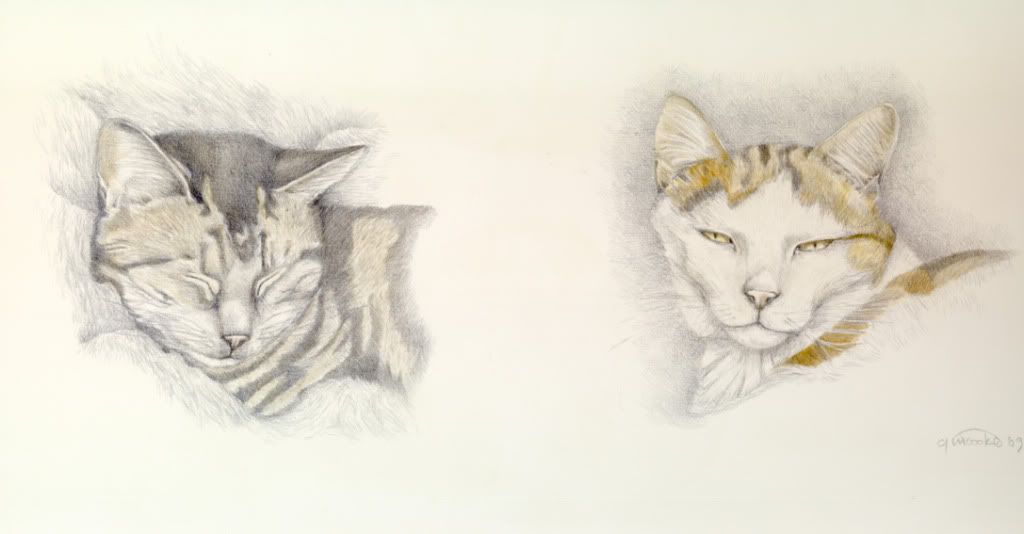 This is a Silverpoint portrait of my parents cats which I am very pleased with. I scanned them in a mount which was too small for the size of picture. It has made it look A4 size but I assure you it is A3.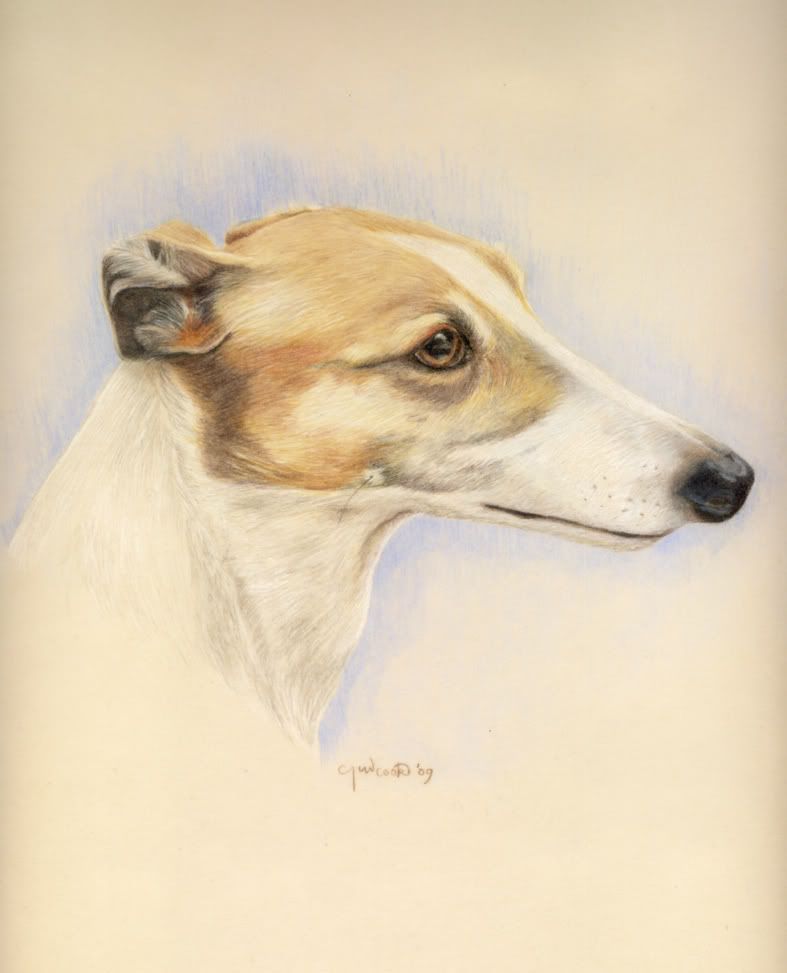 This is Bella Greyhound done with my beautiful Prisma pencils on Tracing paper. These babies will be coming with me to the show to look pretty whilst I will people to have portraits done! I have some others too but I thought I'd be a bit choosy today.
I tried drafting film as well the other day after a long time thinking about it. Loads of portrait artists seem to love it...but alas my attempts were crazy shocking and I decided I would leave it till after the show to try again. I couldn't understand how it could all go so badly wrong, so I did the cats in silverpoint to cheer me up :-)
This week also saw my studio space move somewhat. Cut a long story short I went from Garage (no natural light or heating) to Dining table (messy and no where to eat) to a small table put up in my dining room. It is so neat and lovely - although the cats have decided new table is fair game for play time. My pencil crayons are in much peril! Even my Lazy boy cat - big fat, slow fluff ball - became nimble and light at the sight of masking tape...really, its been on the dining table (unattended) for the last month or so - why the interest now Mr?
I have also spent a good deal of time making marketing material for the stand. I tell you I hate making posters and stuff for myself as I'm so indecisive. Seriously, it took me a good few hours to make my business cards! So my lovely Husband came to the rescue and sorted the rest out...much to his displeasure - I was still indecisive which drove him mad!
So my pretties, off I go back to my cute little table and make some more pictures.
Take care and if I don't see you again this week, have a great weekend...oh and wish me luck :-)
xxx