Ahhhh it's Thursday and welcome ye one and all back to my blog. I have good news today and I wish to share it with you all! It was confirmed yesterday that I will have a stand (yey!) at the Annual Dog show held at Owlerton Racing Stadium, Sheffield on 19th July. This is being run by the Sheffield retired Greyhound Charity who look after and re home hundreds of retired Greyhounds every year.

This is a fun day when everyone can come together and enjoy themselves - obviously dogs welcome! There will be raffles, stalls and refreshments - so come along if you are able. My stand will have some of my work displayed, me doing a work in progress (so you can see what I do) and a raffle for a portrait. Also joining me will be my husband and Sister - possibly our respective doggies!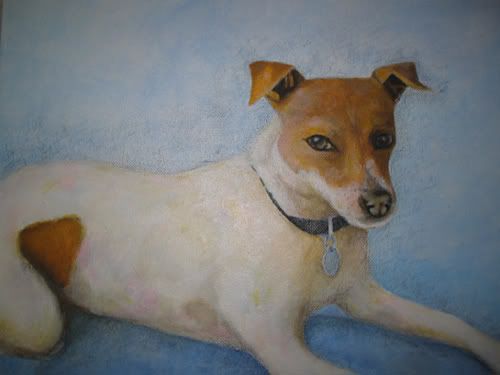 This is an excellent cause and any portrait that I do through the S.R.G will get a percentage.
Please visit their
website
for more information.

As a blog offer from now until September, if you commission a pet portrait from me I will give 20% to the S.R.G - when you email me just mention this offer.
Please go
here
to see my portraits.
I wanted to upload a pic I'd done of my mum's greyhound Sasha but it just will NOT do it. I am so annoyed with blogger and its quirks! Instead you get Wyn (which was a portrait I did a while ago) - apologies!
Anyhoo, hope you can make the day - it will be wonderful to see you.